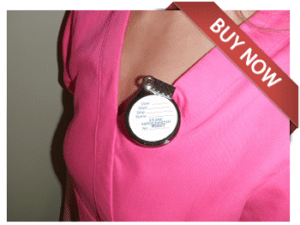 Compass Cryogenics is proud to be the Medical Gas Testing and Compliance partner for your facility. As an additional service for our customers we offer an easy, inexpensive, but accurate method of measuring and documenting that laboratory staff exposures are maintained below OSHA standards for potentially harmful chemicals. Some exposures might include: Lab Chemicals, Sterilant Chemicals, Anesthesia, Cleaning Chemicals.
Staff members working in exposure areas attach badge(s) to clothing
After prescribed exposure period (usually 8 hours) seal badge in the pouch provided and return in pre-paid envelope
Our AIHA-LAP, LLC Accredited Lab analyzes the badge(s) and produces a report
A report is sent directly to you for your records and your OSHA or Joint Commission review
Compass maintains copies of the report should you ever need them in the future.
How They Work
The Compass Cryogenics badge sampling involves no liquid and mechanical pumps. Workers can clip the badges near the breathing zone to measure personal exposure or place them in a room to measure area concentration. Record start and end time. Mail the badge to the Compass Cryogenics lab in the envelope provided. The analysis reports will be provided within two weeks or upon receipt from the laboratory.
Monitoring Protocol
Periodic monitoring of personnel and room concentration is recommended to monitor workers who are exposed to harmful chemicals.
The general OSHA protocol for personal exposure monitoring is to do two tests more than one week apart. If both results are low, then periodic testing should be done at intervals no more than one year apart. In a one-year period each person who is exposed to the chemical as a regular part of their job should be tested.
We offer many types of monitoring badges. If you need to monitor chemicals that are not listed, please contact us.
Common Vapor Monitor Applications in Healthcare Facilities
Sterilization Department
Histology Department
Pathology Department
Operating Rooms
Clinical Lab
Endoscopy Centers
Surgery Centers
Kidney Dialysis Centers
Veterinary Hospitals